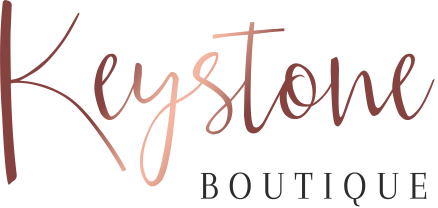 Keystone Boutique's FAQ:
How are Payments processed:
We accept the following credit cards: Visa, MasterCard, American Express, Discover VIA PayPal and will use VENMO. There is no surcharge for using your credit card to make purchases.
If you are using PayPal for the first time you do NOT need to create an account. You can check out as a guest. PLEASE email me if you have any questions.
When can I expect a reply to my email?
I do my best to reply same day. If you are emailing VIA IG, send me another email. Sometimes IG will filter my DM's.
If you have emailed Michelle@Keystoneboutique.com and still have not had a reply, check your SPAM. I promise, I did email you back J
Do you offer gift packaging and or personalized cards?
Of course! All items are packaged in tissue and wrapped in twine with a handwritten note. If this is a gift, email me and I will write a personalized note for the recipient.
Do you have a size chart?
We do not offer a size chart, however most dresses run true to size. To search for a specific size please click on the "By Size" and you can filter Baby sizes from Toddler Sizes.
The tags are on the clothing might not always match the size you've ordered. Please don't be concerned as the sizing on the tag might be European or Asian
How much is shopping cost?
- Standard Shipping within the US is FREE (2 - 5 business days' delivery time)
- Priority Shipping is $8 (2-3 business days' delivery time)
- International Shipping if free, please email me Michelle@Keystoneboutique.com so I can place your order directly.
How long does shipping take?
Any payment processed prior to 1:00 pm EST will ship the same day with USPS. A tracking number will be provided.
Keystone Boutique is NOT responsible for lost or stolen items if they have been confirmed delivered by USPS. I will help in any way I can to retrieve the items. But once they are shipped, it's out of my hands.
Please be sure to provide your exact mailing address when checking out. Incorrect information will cause a delay in processing your order and/or your item will be shipped to the incorrect address.
Where do you ship from?
We ship directly from our logistics center located in Hughesville, Pennsylvania.
How do I track My Order?
You will receive a tracking number VIA PayPal. If for some reason you do not receive it, please email me at Michelle@Keystoneboutique.com and I will resend it to you. Once an item is scanned in, you'll be able to check the ETA on that item.
If you have a bulk order ALL item's will ship together. In the rare occasion that your order is too big for me to fit in my poly bags, I will split the order up. But everything will ship the same day and you will get a tracking number for each parcel.
All Domestic orders ship FREE with USPS 2 – 5-day Priority.
Can your item(s) be washed in the washing machine?
Most of our clothing is machine washable. Wash on gentle/delicate cycle in a garment bag in cold water and should be laid flat to dry. Do not put in the dryer. It's always best to hand wash any item that has embellishments.